Kid Kritics Approved
When Barbara started our company in 1971, she believed that nature provided the best recipe for healthy food. Her commitment to wholesome ingredients – free of artificial flavors, preservatives or additives – are the principals we live by today. We believe your family deserves nothing less than great tasting, naturally healthy food.

Barbara's cereals are Kid Kritics favorites. They love the tastes and textures. "not too hard, not too soft, just right." When asked what advice should be given to the manufacturer, "Tell them to make more, lots more!" We were swarmed with requests for seconds. Dry or with milk, these cereals are winners.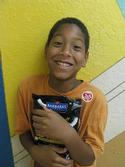 "Better than cheese puffs in the stores... lots of good cheese flavor... good crunch and puffiness... they tasted like real colored food... looked like it didn't have fake colors." We listened to them crunch with the microphone. It was hilarious. They were enchanted with the sound of these Puffs. All begged for more. These snacks are a home run!
We've put together some delicious and healthy recipes combining Kid Kritics Approved products with other wholesome ingredients.