Kid Kritics Approved
Based in Greensboro, NC, Good Health® Natural Products, Inc. is a leading innovator in the natural and organic snack industry. Good Health makes healthier-for-you snacks that also taste great. Product lines include Olive and Avocado Oil Potato Chips, Veggie Stix® and HUMBLES™, a baked hummus chip. The snacks are branded and sold under the Good Health® Natural Foods name. You can rest assure that ALL of our snack products are GMO FREE! It is our goal to bring customers A Healthy Family of Snacks™!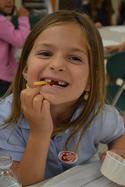 "I could eat these all day. My favorite! Tastes like French fries. Tastes like veggies which I don't like, but, I like the taste of these." All loved the crunchy texture.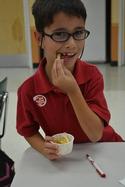 When asked what vegetables they thought were in these Stix, the Kid Kritics guessed carrots, broccoli and spinach. We love the fact that vegetables can have a positive association with kids.
We've put together some delicious and healthy recipes combining Kid Kritics Approved products with other wholesome ingredients.