Kid Kritics Approved
Orange Peel Enterprises, Inc. is the formulator, manufacturer and direct distributor of the Greens Plus Family of Products. We actively search Earth's Lands and Seas™ for only natural, premium quality, organically-grown and wildcrafted Superfoods for our Award-winning products. Orange Peel Enterprises is not a multi-level company.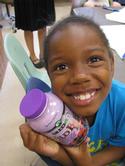 The kids were so happy to see chocolate and thought it smelled delicious. Once they took their first bite of this Chocolate Energy Bar and the green inside was revealed, almost all agreed it tasted good. Yes, "green can taste good!"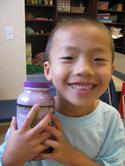 All were surprised to learn that Wild Berry Burst Superfood was full of super nutrients. Their basketball counselor went bonkers over this smoothie and asked for more. The goodness we made a lot so all could have at least seconds.
We've put together some delicious and healthy recipes combining Kid Kritics Approved products with other wholesome ingredients.