Kid Kritics Approved
Pamela's Products' complete line of Traditional Cookies, Organic Cookies, Biscotti, Simplebites Mini Cookies, Baking Mixes and Ready-to-Eat cakes can be found in natural food and grocery stores throughout North America and at www.pamelasproducts.com. Setting the standard for great taste since 1988, Pamela's Products continues to create the most delicious wheat-free and gluten-free foods, with their Baking & Pancake Mix and Chocolate Brownie Mix consistently holding the #1 position in the entire Natural Foods category.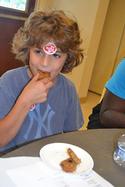 Gluten-free is delicious when it is Pamela's Products. "They are very rich and soooo good... they are fudgy, very chocolaty and have good taste... I liked the after-taste... crunch was just right... please, please, please may I have more?" When asked if they would want these in their lunch boxes, a roar of "YES" filled the room". Later, when told they were gluten-free, they found it interesting, but this fact did not change their opinions. They wanted more!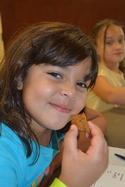 Pancakes and banana bread were made with this Gluten-Free Baking & Pancake Mix. The pancakes were a big hit, "nice and thick and fluffy... liked the sweetness, tasted good!" Not a single pancake was left. We were also cleaned out of the banana bread - not a crumb to be found anywhere. "I loved the banana bread... it tasted like real, not fake bananas... can I have the recipe for my mom.. may I have some more... it was perfect." Great product, great recipes!
We've put together some delicious and healthy recipes combining Kid Kritics Approved products with other wholesome ingredients.