Kid Kritics Approved
Rudi's Gluten-Free Bakery is giving families that suffer from celiac disease and gluten intolerances a healthy, brighter outlook by letting them truly enjoy bread again. Rudi's has been committed to baking delicious, family-friendly breads without artificial ingredients for more than 30 years, and leveraged this legacy of baking on the bright side to launch a new line of gluten-free breads. All Rudi's Gluten-Free Bakery products are made with only the highest quality, all-natural and organic ingredients, and are certified gluten-free and carry the Gluten-Free Certification Organization (GFCO) seal. Rudi's Gluten-Free Bakery worked extensively with gluten free experts, like GFCO, to make sure it is making products that are safe and do not contain gluten.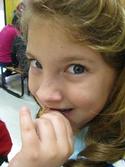 The kids volunteered that they loved its "mushy when you chew on it" soft light mouth feel. More quotes, "Really liked it… it fell all over your tongue… tastes like pieces of cupcakes under the crust ... very very soft and smooth… want it for school lunch." They were asked what they should tell Mr. Rudi about his bread, "I like what you make and it's like cake with a lot less sugar… your company makes it very delicious!"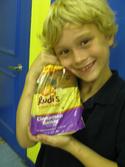 "It's better than ever bread, better texture and flavor… texture is better than regular bread....It was sooo good… I would like to eat it all the time… It tastes so good – yummy… so tasty and amazing… so good I want more… I could eat it all day and night… It's the best I ever tasted in the whole entire galaxy!" As you can hear, the kids loved these Gluten-Free Original, MultiGrain and Cinnamon Raisin Breads. They are all winners!
We've put together some delicious and healthy recipes combining Kid Kritics Approved products with other wholesome ingredients.