Kid Kritics Approved
From it's founding in 1976, Rudi's Organic Bakery has been about our passion for baking better breads for families. At the heart of it all, we believe that living a healthy life leads to happiness and this principle drives our actions and how we bake. It all starts with the RUDImentary recipes and the ingredients we use: they're simple, wholesome, and organic. Then we bake our breads with a little flour power and a lot of heart in small batches taking care to create the most delicious, wholesome breads we can. And since the best things in life are free, we make sure our breads are free of high fructose corn syrup, artificial ingredients, or chemical preservatives. Rudi's Organic Bakery. . . Baked on the Bright Side.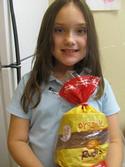 the flavor from your organic grains spoke for themselves. "Lots of flavor, really good… So yummy… Sooo good. They have made it so yummy… So sweet. Tastes really good!" Then we asked them what to tell the company who makes this bread. "This is the bread that they should have at school lunches… Keep on selling it… Keep on giving it to kids… Really good. Tell them to sell it until there is no more left… Thank you for making it!"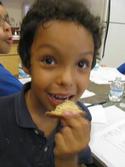 "Has a lot of flavor… Really delicious, taste greats… Tastes super good… Tasted so yummy and makes me like superman… Tastes very, very, very good… Should sell this in schools… Go to a helicopter, fill it with this bread and drop a bunch over schools!" That says it all! Kids like flavor-filled food and are really happy to know it is good for them. Clearly, they want your bread to replace the tasteless ones they are served at school… they know the difference!
We've put together some delicious and healthy recipes combining Kid Kritics Approved products with other wholesome ingredients.