Kid Kritics Approved
Over a century of pride goes into every batch of Snyder's of Hanover bakery pretzels. You can taste it in our natural ingredients. You can feel it in each carefully crafted shape. And, you can see it in our continued dedication to baking the world's best-tasting, most innovative new pretzel varieties. Snyder's of Hanover EatSmart Naturals are a tastier approach to natural snacks. Naturally, we are all looking for snacks that are better for us and taste good too! We want unique, interesting snacks packed with wholesome ingredients that come from nature and without artificial stuff, like preservatives and additives. Snyder's of Hanover EatSmart Naturals fits the bill, with extraordinary taste and exciting varieties! Everyone in your family will have a favorite!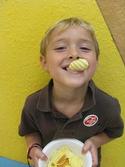 "I love these... Crunchy... Lots of good flavor... Ummmm, its good!" Most of these kids identified the veggies in these crisps: potato, tomato and spinach. A few thought they tasted carrots and lettuce. Didn't matter what vegetables, they were happy to eat all of them. The flavors and texture sold them. Kids love the taste of crunch.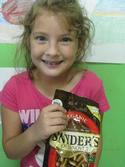 "They must have a secret ingredient in there that makes them taste really good ... lots of flavor makes me want more... I want more!" All thought these organic pretzel sticks have just enough salt. The good news is that they are made with less salt than most pretzels. No one noticed the addition of chia seeds, a super source of nutrients. "Fantastic!"
We've put together some delicious and healthy recipes combining Kid Kritics Approved products with other wholesome ingredients.