Kid Kritics Approved
Wyman's of Maine is the premier grower, processor, and marketer of Wild Blueberries in the U.S. Wyman's has been a family owned company since 1874. During that time, we've remained true to our promise to provide premium quality products that your family can rely upon and enjoy. Wyman's offers a full line of premium frozen fruit, Wild Blueberry 100% juice blends, Canned Wild Blueberries, and All-Natural Dried Wild Blueberries. Wild Blueberries are widely recognized as an antioxidant Superfruit with tremendous health benefits and a delicious taste!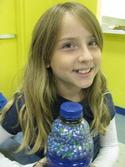 Wild blueberry juices have powerful flavors. "Fabulous, smelled good, tastes both sweet and sour, it was amazing, Fantastic, my taste buds loved it, I can taste the real nutrition, had the flavor of my favorite food!" Some kids especially liked them when water or ice was added. Great for smoothies!

"Juicy, berry flavors compliment each other, the berries are amazing, you have very delicious berries, they have such a good strong taste, feels healthy for my body, Delicious!, Yumastic!, Tastetastic!"
We've put together some delicious and healthy recipes combining Kid Kritics Approved products with other wholesome ingredients.